Rory H Mather's: All-time top 5 favourite reads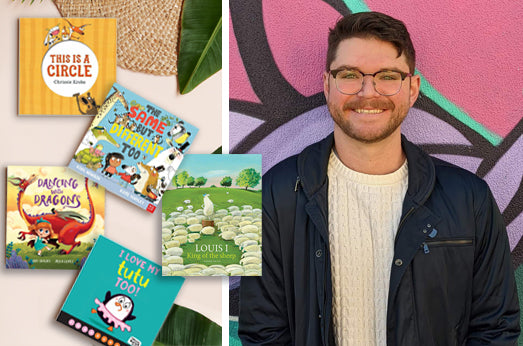 We all know that a love for literacy and all things books begins early, but what makes an avid reader become a prolific author?
I asked Rory H. Mather, author of Vlad's Bad Breath, Roary the Lion, Get Back in your Books, Monster School Rules and many others to tell us what inspired his passion for children's books, what kick-started his author journey and what were his all-time top 5 favourite reads.
This is what he had to share:
A lot of picture book authors get into writing once they have children. My story is similar, but different. I took a role at a public library delivering kidlit programs a few times a week. I was exposed to a new type of picture book that hadn't existed when I was a kid…the bright funny rhyming story. Having dabbled in poetry all my life I was fascinated by the medium of picture books and soon found myself consumed with ideas. I was a child with learning difficulties that didn't enjoy reading and so I set out to emulate this new style which I believe would have appealed to me.
And these, are my all-time top 5 favourites reads: 
The Same But Different Too 
Written by: Karl Newson
Illustrated by: Kate Hindley
Published by: Nosy Crow
There are a lot of reasons to love this book. First and foremost is the excellent rhyme which is not only faultless, but which makes it a very easy and enjoyable book to read aloud. A familiar concept, the book goes through the many attributes that make us all both similar and different. The rhyming words paired with gorgeous illustrations by Kate Hindley that suit the text brilliantly make this a standout book. The Same but Different Too is a book that when I read it for the first time, I immediately wanted to own a copy of.
Sample:
I am me,
and you are you.
We're the same,
but different too.
Dancing With Dragons
Written by: Amy Dunjey,
Illustrated by: Jesus Lopez
Published by: Larrikin House
We all love the classics because they make us feel nostalgic for our own childhoods. Dancing with Dragons reminds me of these classics. The setting (deep in a forest), the character (a small girl all on her own) or…the dragons felt very reminiscent of many stories I grew up hearing. Dancing with Dragons is a story that sets you up for a nostalgic fairy-tale, you know exactly where it's going. So, when Rose comes across a clearing where there are two fierce looking dragons you can't help but smile. Your smile then broadens at the twist that takes this story out of the realm of nostalgia and straight back into a modern humorous read. Incredible illustrations by Jesus Lopez create the type of story I'd consider 'a new classic'. A fusion of old with new that deserves its place on the bookshelves of every little reader.
This Is A Circle
Written and illustrated by: Chrissie Krebs
Published by: Random House Australia
There is a theory in science that if you gave a billion monkeys a billion typewriters eventually one of them will write some Shakespeare. I find that the books I enjoy the most are ones that I know I couldn't have come up with in a million years myself. This Is a Circle is by far one of the most random things I have ever read. It's a brilliant, humorous story of four frenemies, a couple of bits and bobs and some shapes. Every word has its place, and everything in the beginning ties back in at the end with simple but brilliant illustrations. This Is a Circle is definitely a story that, to my mind, stands out amongst all of the books published in the last decade.
I Love My Tutu Too
Written and illustrated by: Ross Burach
Published by: Scholastic
This book is a prime example that something can be both simple and extremely complex at the same time. It's a counting book, but it's a counting book with a story AND it is monorhyme! I am a massive fan of monorhyme, in fact if this was a top ten favourite book list a few more books written in monorhyme would appear. I think a good monrhyme story comes down to three things:
- Firstly, a sound that has lots of rhyming options, bear, hair, chair or tutu, too, do.
- Secondly, a good topic (tutu's are a brilliant example).
- Finally, a willingness to repeat certain words in the rhyme scheme without making it sound repetitive.  Ross Burach's illustrations are simple, but they are also elegant in the way a book about animals wearing tutus should be. This book is the perfect combination of funny and sweet.
Louis I King Of the Sheep
Written and illustrated by: Olivier Tallec
Published by: Enchanted Lion Books
Sadly, this book is now out of print, but there are so many reasons why it still appeals to me - the main being that it draws parallels to history. Fun fact: I have a history degree and am addicted to history podcasts. Louise I King of the Sheep is a story of power and how it corrupts. Olivier masterfully conveys the story through stunning illustrations (which I would gladly frame and hang on my walls). What I also love about this story is the design work. One of the standout design features is that the text sits in its own section below the illustrations (almost like a description below a painting at a gallery). It's written in prose and whilst there is nothing overly funny in the narrative, you can't help but be amused, then slowly horrified and then amused again by how the story unfolds. I must confess that I love picture books and I consider them to be my favourite form of art. This book stands out to me as artistic. It's another story I know that I couldn't have written but so desperately wish I had.
These are all books that I admire and which, whenever I'm feeling uninspired, are my go-to reads. I know I couldn't have written them myself, but they show me what's possible and so inspire me to write the stories that only I can write. These brilliant pieces of art that individuals have poured days, weeks, months and sometimes years of work into, fulfill their main purpose. They bring me (and others who might read them) joy.
Rory H. Mather is the author of a number of picture books published in recent years including Vlad's Bad Breath, Get Back In Your Books and Monster School Rules.
You can find out more about Rory and his titles here