Amy Dunjey: On reading, vocabulary and speech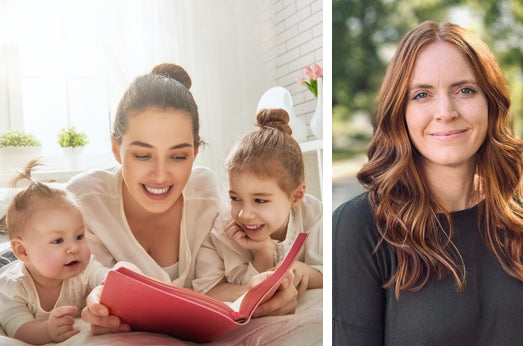 It's no secret that reading to children is important. But just how important are we talking? Research indicates that four-year-old's who've been read an average of five books a day, will have heard approximately 1.4 million more words than those who haven't. And the benefits of reading to children are extensive, including supporting speech and vocabulary skills; expanding imaginations; promoting literacy skills and building connection through quality time together.
I asked Speech Pathologist and author of Dancing with Dragons, Amy Dunjey, to share her top eight tips for enriching the book-sharing experience as well as her recommendations for books to support language and vocabulary.
Choosing books together
Children are more likely to be engaged if they've been involved in the selection process. Allowing them to choose the books they're most drawn to will enhance the reading experience and begin to develop their love for reading. This, may sometimes mean reading books you are completely sick of, but this leads to my next point…
It's okay to read the same book/s over and over (and over…)
In fact, it's great! Maybe not for your sanity, when you're reading Hairy Maclary for the thousandth time, but rest assured, it is good for little minds. Building familiarity with texts, allows for prediction of words or lines and builds comprehension skills. As your child becomes more familiar with a text, you may like to pause in the story and allow them to fill in the gap. This is a great way to maintain your child's engagement.
Avoid asking, "What's that?" or "Where is the…?"
Your child has started being able to name things, so you point to pictures in the book and ask, "What's that?" or "Where's the dog?" and rejoice when they respond correctly – right? Well, not exactly…
The reason to avoid this is that it can detract from the story, it creates a test-like environment and doesn't contribute to building your child's literacy skills. For older toddlers, you may instead ask, "What do you think is going to happen next?" or "What do you think they are feeling?" This engages the child's comprehension skills and supports their ability to make predictions and interpret the text and illustrations.
Model language
Support their language development by modeling language. So, instead of saying, "Where's the dog?", try commenting, "The dog is barking…woof, woof!" From a speech pathology perspective, this develops the child's vocabulary and exposes them to as many words and concepts as possible. If your child has lots of single words in their vocabulary already, try modeling two-word combinations while sharing books. For example, "Blue truck", "big tree" or "sad puppy". Put emphasis on the descriptive word to make it stand out to your child.
Think about how you're seated
A common go-to position when reading with children, is having them sit on your lap. A great alternative is having the child face you. For very little ones, this may mean propping them up with pillows. This position allows the child to see your facial expressions while you're reading and promotes better engagement. It will also test your reading-upside-down skills!
Let your child have control
At around the age of 2-3, your child will probably start turning the pages themselves. Let them! This may test your patience when you haven't finished reading a page, but it is an important step in enjoying books and reading. Don't stress about how the book is read – it's ok to break the rules! Take creative license and let them explore in their own way. If it helps your sanity, try talking about the pages they land on as well as the illustrations and possible sounds – "There's a cat. Cat starts with a 'c' sound. C-c-cat!"
Make it fun!
Use silly voices and actions to increase your child's engagement and enjoyment of the reading experience. Try creating a different voice for each character or using hand actions to enhance what's happening in the story. These are great ways to increase the appeal of book sharing time.
Keep reading
Always keep reading – even if your child is old enough to read to themselves! Taking turns in reading together is a great way to support their development especially if you're helping to sound out tricky words and discussing new concepts. It's also a great way to continue building your connection.
Amy's favourite picture book recommendations for different ages:
0-2 YEARS OLD
Each Peach Pear Plum
Written and Illustrated by: Janet and Allan Ahlberg
This book is a favourite of speech pathologists. It models a range of great literary devices, such as rhyming, alliteration and repetition. The pictures provide plenty of opportunity for discussion and after a few reads, children will love predicting the lines.


I Love Me by
Written by: Sally Morgan
Illustrated by: Ambelin Kwaymullina 
A gorgeous book for little ones, celebrating individuality and self-love. The vibrant illustrations will grab your child's attention and the bouncy rhyme will soon have them joining in.


2-4 YEARS OLD
Hairy Maclary
Written & Illustrated by: Lynley Dodd
Another favourite of speech pathologists, through its execution of perfect rhyme and the opportunities it provides for meaningful discussion. A great book for asking, "What do you think will happen next?" and, "How do you think they're feeling?"
The Snail and the Whale
Written by: Julia Donaldson
Illustrated by: Alex Scheffler
Any book by Julia Donaldson is a great book, in my opinion! This is a personal favourite, as not only is the rhyme gorgeous, but the descriptive language used provides plenty of opportunity for expanding a child's vocabulary.
Under the Love Umbrella
Written by: Davina Bell
Illustrated by: Allison Colpoys 
This joyful book is sure to be become a favourite in your home. The use of sweet rhyme delivers a message of unconditional love and comfort.
4-6 YEARS OLD
The Boy Who Tried to Shrink His Name
Written by: Sandhya Parappukkaran
Illustrated by: Michelle Pereira 
An uplifting story about a young boy who tries to shorten his name to fit in. This book provides great opportunity to discuss various concepts with your child, such as being true to yourself and acceptance.


Get Back in Your Books
Written by: Rory H. Mather
Illustrated by: Shane McG
A fun, rhyming book about Book Week. Perfect for school-aged children, this book provides great opportunities for children to identify characters from other books they may have read, as well as make predictions about the storyline.
The Girl and the Dinosaur
Written by: Hollie Hughes
Illustrated by: Sarah Massini
A wonderful, whimsical story about friendship, dreams and a magical journey. The stunning illustrations and sweet rhyming text will have children engaged from beginning to end.
If you have any concerns about your child's speech and language development, I recommend making an appointment to speak with a speech pathologist as early as possible. They can provide professional support specific to your child's needs. Early intervention has strong evidence for being an effective method to address speech and language needs and helping prevent more advanced needs in the future.
Amy Dunjey is a children's author and Speech Pathologist from Perth, Western Australia. Her debut picture book, Dancing with Dragons, was released in 2022 and she has an upcoming title in 2023. Amy is fond of all things whimsical, particularly if they rhyme.
You can find out more about Amy and her titles here